Champagne Tasting
Would you like a Champagne Tasting?
Do you love Champagne like we do? Would you like to learn a little bit more about this fantastic drink, then a Wine-Works Champagne Tasting is the perfect solution. Do you want to learn the differences between a Non-Vintage and Vintage, Brut and Demi-Sec? Learn the methods used to create Rose Champagnes .
With our Champagne Tasting you will learn how to spot the differences between Champagne and some of the best quality Sparkling Wines from around the world. Are they really worth the difference in price, and which do you prefer? The results often surprise.
As part of our champagne tasting you will also learn which foods match with champagne…..yes you can drink it with food! You can also learn how to make a Champagne Cocktail utilising fruit based liqueurs and then sampling the results.
Champagne Tasting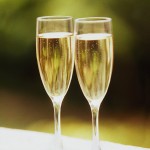 You don't need a special occasion to enjoy our Champagne Tasting, but should you wish to celebrate a birthday, anniversary, graduation in style then our Champagne Tasting is a great way to really do it in style in a relaxed and informal manner.
Your Champagne Tasting can be run for small groups of 10, or larger groups as a stand alone event which can include some fun interactive quiz options and blind tastings, and we can always provide a Champagne reception prior to your wine tasting event.
For the Corporate Sector our champagne tasting is a marvellous way to reward staff or entertain clients in an informal yet informative tasting environment at a venue of your choosing. We can always provide a shortened tasting as an activity before a meal or at the end of a meeting.
Please e-mail for further details or to book your Champagne Tasting, or call us on 020 3583 7070 for a friendly chat and a no obligation quotation.