Hen Party Activities
Book your Hen Party Wine Tasting or Activity
A Wine-Works activity is perfect for hen parties covering more than one generation or bonding together a group who may not already know each other very well. We will also pay special attention to any non-drinkers in the group with some sensational mocktails.
It is a perfect way therefore, to get your day or evening off to a great start by breaking the ice while enjoying some amazing drinks in a relaxed, informal and fun atmosphere, along with a fun team quiz.
Equally we can ramp up the atmosphere to make the activity the main feature of the party schedule whatever time of day or evening you wish, and, of course, the Hen is likely to become the special centre of attention!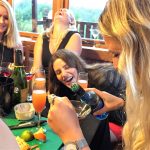 Here are a few tried and trusted packages which have received great feedback, but we will be equally delighted to create something to your specific request:
Option 1:  Celebration of Wine Party (from £30pp) - 8 different wines,  a great Prosecco as our gift to the bride to be, then featuring some of the most exciting wines on the market, along with a fun quiz and one or two party games at the Hen's expense!
Option 2: Wine and Chocolate Matching (£40pp) - 6 sensational wines, including Champagne for starters, and some of best chocolates money can buy, with some surprising yet thrilling combinations - an unforgettable experience for chocoholics and wine lovers alike – double heaven for hens!
Option 3: Wine and Cheese Marriage (£40pp) – 6 sensational wines again, with a Champagne, but this time paired with some of the best artisan cheeses from cow's, goat's and ewe's milk you can buy, leading to some delicious combinations, and the chance to experiment too!
Option 4: Think Pink (£35pp) – similar to our Wine Party, but all rose´, featuring a delicious pink Champagne, and a bottle of sparkling rose to compare, besides plenty of proof that rose´ is not a compromise between white and red!
Option 5: Fizz Fantastic! (£50pp) – 4 pairs of wines, made up of Champagne and some of the best sparkling wines from around the world, including English – but will you be able to pick out the Champagnes?
Please contact us at alex.allan@wine-works.co.uk for your personal quotation by advising the date and location for the party, anticipated numbers, and the options you are interested in. We will come back to you within 24 hours with our availability and fully costed proposal.
Wine tastings: minimum fee based on 10 people attending.