Private Wine Tastings
Host private wine tastings for your friends and let Wine Works help you.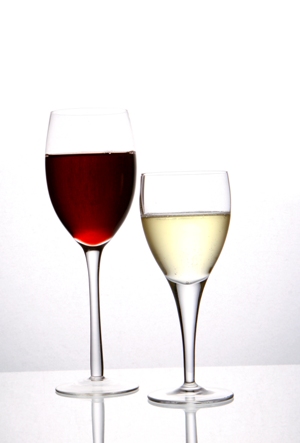 Wines
The term "wine" comes from the word "winam", a Proto- Germanic term originating from the Latin "vinum" which means "wine" or "vine". Wine is an alcoholic beverage made from fermented fruits, usually grapes.
The use of wine dates back to sixth millennium BC, where there is archeological evidence of wine production in Caucasus and the Middle East. Wine drinking as part of celebrations and merriment are evidenced through many literary works throughout history. Some examples are the works of Homer around 8th century BC and those of Alkman in 7th century BC. Fermenting grapes, and possibly rice, for wine making slowly became widespread all over the world - from Georgia to Egypt, Greece, China and India. The ancient Roman empire established the viticulture in today's world famous wine regions.
Wine also has religious significance for many beliefs and is part of different religious ceremonies.
Wine Tasting
Although wine drinking has been famous for thousands of years, wine tasting is something that is enjoyed by many only in recent years. While drinking wine is part of a meal, wine tasting is done for pleasure and learning. It is the examination and evaluation of wine through its smell, color, and taste. Wine tasting usually includes a variety of wines so that the tasters can compare one from the other.
Private wine tastings are a great way to provide entertainment at your next party or corporate event.
Themed Private Wine Tastings
Private wine tastings is a great way to perk up your next party, family get together or corporate event. Wine Works will tailor fit the event to your preferences. We have an array of themes you can choose from. Or, if you have a theme that you would like to use, we can help you materialize that too. We will include fun games (and prizes) so you and your guests can truly have fun while learning more about wines.
Whether you and your guests are wine enthusiasts or not, you can have fun while learning more about wines. We will also include interactive games (and prizes), and our wine experts will be available to guide you and answer your questions.
Call us today for the quotation, list of wines, and other information about private wine tastings.